Alpaca Love - Knit and Crochet for Cancer
Several years ago God laid upon my heart to begin a ministry to help those who are in the throngs of cancer after a brief visit from a young woman whose mother was in the final stages of her battle. The night before coming to my store her mother was in anguish because the hat she was wearing to keep her warm was so scratchy and uncomfortable she tore it to shreds. The daughter came to me hoping to find the softest hat available which would be alpaca, in blue! Unfortunately I did not have one ready made in that color so I asked her to pick out a skein of blue yarn she thought her mother would like and I'd be happy to make one for her. Sad to say by the time I got it made her mother had passed. That encounter touched my heart so deeply that I made a promise to God that one day I would share the blessing he gave my husband and I with our animals and store and would make these hats available for as many people as I possibly could. I didn't want anyone to suffer or be without again. That was the birth of Alpaca Love.
Alpaca Love makes FREE soft warm alpaca items such as hats, socks and mittens for those in the midst of cancer. We also make breast prosthesis for women with breast cancer. These prosthesis have had rave reviews all over the country.
Alpaca is a fiber that is especially beneficial to those with sensitive skin due to their treatments. It is much, much softer than wool or many acrylics, which is of great importance. It is 5 times warmer than wool and is hypoallergenic.
But we need knitters (and Crocheters too!) If you would like to help and be part of this ministry please contact us at 906-563-7034. It is of no cost to you, all we need is your willingness to help those in need and your talents.

Alpaca Love is funded through The Dickinson Hospital Foundation, Bras for a Cause and Rainbow Gifts. We are seeking people who love to knit and crochet for a purpose. The need is so great and our workers are few, so we are putting out a plea and invitation to people in our area who enjoy knitting or crochet. We are inviting them to be a part of this ministry, at no cost to them, and help us make as many items as possible for those that pass through our DCH Oncology Clinic of which takes care of a 100 mile radius, so the need is great!
I would be happy to talk to you or a woman's ministry you know of, with more details.
​If you have any questions or would be so gracious as to let me know your intent I can be reached at
lynnv@att.net
or 563-7034 or you are always welcome to the farm & store, W6139 US 2, Norway (west of the spring).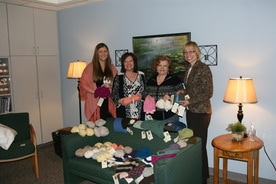 Left to right:Stacy of the Oncology Clinic, Tamara, director of Dickinson County Hospital Foundation, Mary Lynn, owner Rainbow Gifts and founder of Alpaca Love, Debbie, of Iron Mountain-Kingsford Credit Union & Bras for a Cause. Displayed are some of the recent items donated to DCH Oncology Clinic.