Boot Camp
2017-2018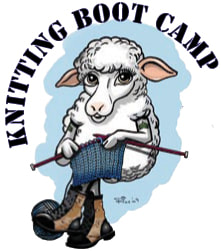 ThThe Knitting Boot Camp is an educational series that will have you growing in your knitting knowledge by leaps and bounds! You will learn to knit more confidently, you'll have a swatch library to refer to again and again, you'll learn to read your work, and much more. You will leave with a much broader understanding of knitting than when you began. But this Camp is not for the faint of heart dedication and devotion will be required. Classes will take place once a month via personal attendance.

Knitting Boot Camp is comparable to taking Master Knitting from The Knitting Guild of America, but is substantially more affordable and less work. For each session there will be some "homework" to prepare for the following class, but you will have a month between classes to do it enabling you to keep up. This homework is mandatory in order for you to keep up with the class progress. At the end of the course you will receive a Certification for your accomplishments as well as a lifetime of knowledge to draw from.

We are very fortunate to have Sandra Verbos, a very accomplished knitter, teacher and all around fun gal leading this class. Sandy attended The Knitting Boot Camp in her early years of knitting and found it to be a wonderful learning experience and she thinks you will too.
If you are considering taking this course, there is some homework to be done prior to the first class, so make sure you get in and get your supplies so you are prepared for the first class as you will need to arrive with four completed swatches.

Class is limited to ten students at a time. If we fill this class, I will be happy to start a second one. This is not to be taken as a beginning class, but is intended for the Advanced Beginner who wants to improve the quality of their knitting.

We have not established our beginning date but it will begin sometime in September. Classes are held once a month for eight months. At the end of this course you will have greatly enlarged your knowledge of the knitting world and have many new tools to help you in all your future projects.

If you are interested please contact us via email or stopping by or calling the store 906-563-7034

This class is full, however if you are interested in a future class please contact us and we will put you on a future class list!
​