In as much as we love cria's Rainbow's End has taken a break from our breeding program. But please feel free to enjoy pictures from our past...!
Past CRIAS!

Charlie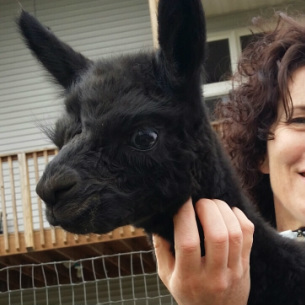 Baby #1: Charlie! Born May 9th, weighing in at 16 pounds to Sarah. Charlie is very dear to us. He is named after a very beloved dog in our family who needed to be put to rest a few weeks prior to Charlie's birth. Charlie has the same beautiful jet black hair that "Charlie #1" had and the same lovable disposition.

Charlie has incredibly soft fiber with beautiful luster and sheen. He's a living tribute to Charlie #1!
---
Jayce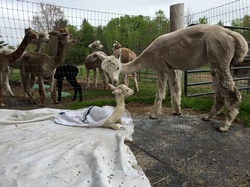 Baby #2: Jayce, born on our son Jason's birthday, May 16th. Jayce has incredible fiber! He has it all, density, fabulous crimp, luster everything our fiber enthusiasts will want.
Jayce was a big boy weighing in at 19 pounds, born to Fiona. And he's all boy. It didn't take him long at all to catch up to Charlie in the field running and playing.
---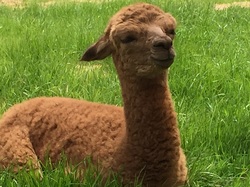 Rusty
Rusty was born May 23, Rusty has beautiful "rust" coloring throughout his whole body, including his face. Wonderful soft texture.
Rusty weighed in at 16.8 pounds to mom Sienna.
---
Velveteen
Velveteen was born about 1 hour after Rusty - it was a double header that day! Both were difficult births, but all ended well and we finally had a girl!
Velveteen weighed 14 pounds and was the first cria born to Velvet. (see blog post for their story)

With much sadness we must announce Velvet passed away in July due to complications with motherhood.
But on a happy note, Velveteen is doing just fine!
---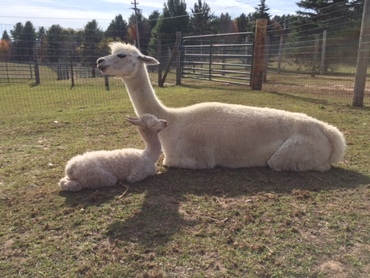 Our first ever fall cria! Artemius "Artie" was born October 19th at noon to Goldie. This little guy picked a beautiful fall day to come into the world. He was 3 weeks premature but in perfect strong health. He's a little pistol! He already likes to torment the older boys!
---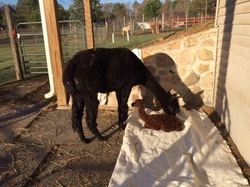 And our tiny little Autumn, born to Callie November 3rd. This little girl weighed in at 13 pounds! Autumn has stolen all our hearts. She is gorgeous in coloring and disposition. She prances and pronks and is very dainty!
---