Fiber Facts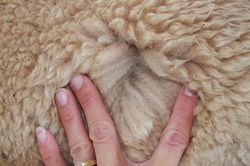 Why Alpaca? Close your eyes and caress your cheek with the soft touch of a baby alpaca sweater; see the luster and glow of a find woman's suit made from alpaca fabric; feel the warmth of a cozy alpaca overcoat as you walk through the falling snow. This is why people prefer alpaca.

Alpaca incorporates the finest features of the world's natural fibers. It is as soft as cashmere and warmer and stronger than wool. Alpaca fleece grows longer and faster than that of camel or vincuna and it comes in 22 natural colors. It can also be dyed any color of the rainbow and not loose any of its natural luster and shine. The rarity of alpaca is its only limitation. The world produces less alpaca fiber than almost any other fiber type…thus making it a perfect time to get into the alpaca business.

Alpaca fiber is often referred to as "The Fiber of the Gods". Garments made from this luxurious fiber was reserved only to be worn by Incan royalty. Death was often the price paid by non-royal persons who dared to wear garments made from this valued fiber. Today alpaca is still held in high regard and value because of its special characteristics. Classically styled alpaca sweaters and suits last for generations.

Alpaca fiber is made up of microscopic air pockets, creating a lightweight yet very warm fiber. The cellular structure is what gives this fiber its softness and handle. Raised at high altitudes in freezing cold, the alpaca has developed more thermal capacity in its fiber than almost any other animal.

There are many characteristics that affect the value of alpaca fiber: fineness, color, crimp and staple length. These can be developed by heredity and environment. Alpaca is also hypoallergenic, so they can be raised by most anyone and their garments worn by all.

The fiber's fineness is what it's all about. Fineness is typically the primary measurement of specialty fibers. It is measured by microns. A human hair is typically 80 microns, cashmere is 30-40, and quality alpaca ranges from 15-30 microns.

There are no negative characteristics to be found in the alpaca's fleece. God designed the ideal fiber for use by mankind and then placed it on the gentle alpaca. The fiber from alpaca is unusually strong and resilient. The strength of the fiber does not diminish as it becomes finer.

Care of Alpaca Garments
Fiber arts are fast becoming a national pastime once again. The art of knitting, crochet and spinning is again finding its way into homes across America. Alpaca can be spun into any weight yarn desired. It can be blended with other fibers to make it even more versatile. America began its textile heritage in the original thirteen colonies where handspinning was a respected occupation practiced by "spinsters".

Alpaca garments are quite easy to care for, if handled correctly. Due to alpaca's ability to repel water, spills can easily be blotted up. The nature of the fiber reduces static electricity, which attracts dust and soil. Here are some care tips:

· Give alpaca garments a 24-hour rest between wearings. They will shed wrinkles and return to their original shape because of alpaca's elasticity and resilience.

· Store in a well-ventilated closet– they need to breath.

· Empty pockets and remove belts before storing.

· Avoid stretching, fold knitwear and store in a drawer or fold over a padded hanger rod.

· Brush your alpaca garments often to remove surface soil and revive the nap. Brush lengthwise with a whisk or lint brush. This is especially important for heavily happed fabrics. For finer fabrics, use a damp sponge.

· Refresh alpaca garments quickly by hanging them in a steamy bathroom. Moisture in the air will steam wrinkles away.

· Follow label instructions for specific care, either "dry clean" or hand wash" but never in hot water.

· If you need to take it to the dry cleaner identify the stain and fabric so proper care will be taken.

Hand Washing
Most alpaca is treated or constructed to withstand hand washing but be sure to read your labels. NEVER use chlorine bleach or hot water. Use cold water and a mild liquid shampoo. Use these procedures:

1. Fill the sink with cold water and mild liquid shampoo, according to the directions of the bottle. DO NOT USE BLEACH!

2. Soak for 3 to 5 minutes. Gently squeeze suds through the garment. Do not twist, wring, or scrub. Avoid agitation.

3. Rinse the garment twice in clean cold water.

4. Gently squeeze out excess water.

5 Lay the garment between two towels, roll up the towels and let it rest for a few minutes.

6. Lay the garment on a dry towel and set it to its original shape.

7. Dry away from sunlight and direct heat. Turn over when the top side is dry to allow underside to dry.

8. Lightly steam with an iron, but do not press, and for protection use a press cloth.


---