---
​Memories... 2016
Below are a few pictures from this years shearing day. NEVER before have we shorn in SNOW!!!! But all went well and the crowds still came out! Another year down and now we let the growing begin again!!
A little note about shearing...This is a very big day on the farm and a very necessary one. For the animals I compare it to my going for my annual physical or dental appointment - it's not exactly something I look forward to but it is necessary for my health. This is not something they really enjoy, but it is very needed for their health. It's a noisy event, but trust me, NO ONE is ever hurt. And once it's over the animals are thrilled to have that heavy warm coat off and run to the nearest dirt pile to roll and roll!
The shears themselves make a lot of noise. They are very powerful and sharp! Therefore the animal is lead in, gently laid on a mat and then restraints are put on and they are stretched out so that they can't thrash around and get hurt. The shearing team promptly goes to work on the animal checking their teeth, nails, shots and then getting sheared. This all is done in a matter on minutes - about 7 minutes to be exact! Every movement is accounted for. Then they are released to join their friends....who by the way will probably not even know them! They all gather around the recently shorn friend and smell and look at them as if to say "who are you and what did they do to our friend?" Within minutes they find some good hay and start eating and chewing their cud in contentment.
So even if you hear a lot of noise, know that much loving care goes into the day. The shearing team is often found cuddling and talking to the animal as it waits it's turn.


​

Life on the farm includes visits from our local school students. This year almost 400 students visited us in the month of May!!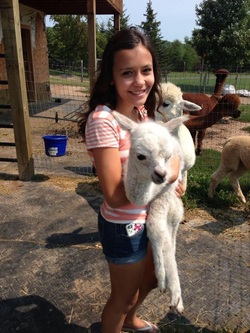 Life on the farm!
Come experience the magic for yourself!




Our Granddaughter Alicia holding newborn Aleecia! Aleecia was born on Alicia's birthday!! Her name seemed very appropriate!
---