Shearing, June 3, 2017
Open to the public at 9:00 a.m.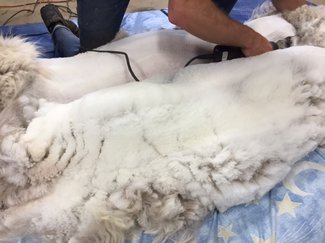 Shearing is coming!! This is an event you won't want to miss on the farm. This fast paced day brings lots of excitement and interest as you will be able to watch the process of the alpacas getting their annual hair cut! We call it their Spa Day!

Shearing isn't exactly something the animals enjoy, but it is a necessary part of their care. With professionals doing the shearing in about 7 minutes each animal gets their hair cut, toe nails trimmed, teeth trimmed, fleece bagged, and health check to take place. Some animals just lay nice and quite during the process and then there are others who like to "voice" their disapproval. But rest assured NO animal is ever hurt during the process. It's just a matter of them getting what they need whether they like it or not.

During our busy day we will have demonstrations in weaving and spinning for you to see some of what is done with their fiber. Knitted and crochet items will also be on hand as well as some very special needle felted "PacaPals" You'll definitely want to meet them! And maybe start a collection of Pals of your own! More info on them will be coming soon so be watching!

If you have any questions about our shearing day please feel free to drop us a line or stop by. We hope you will mark this special day on your calendar and tell all your friends to come!!