About Alpacas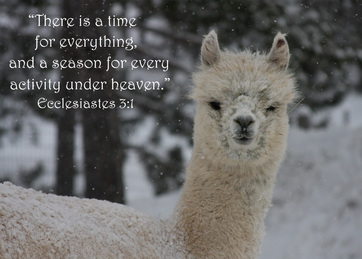 So what is an alpaca? An alpaca is a member of the camelid family. They are a cousin to camels, llamas, guanacos and vicuna. Alpacas are native to South America and were first introduced to the United States in 1983. They have always been raised for their fleece.
Alpacas have a life span of about 20 years. Males are known as machos, herdsires or studs; a castrated male is known as a gelding. Adult females are known as hembras or dams. A baby is known as a cria; weaned crias are known as weanlings or tuis.


Alpacas are about half the size of a llama, reaching an average weight of about 150 pounds and 36 inches at the withers. They are basically a very healthy and strong animal. Alpacas are born to breed. Their gestation is on average 335 days...yep, almost a year...and will be ready for the next breeding 2-3 weeks after birthing! While twins do happen, it is very rare. Birth weight is between 12-20 pounds. They look all legs and neck when they come out! But it doesn't take long before their fleece is dry and fluffed out and they take on the adorable look of a baby alpaca. A cria will usually be up and running within an hour after birth.

There are two kinds of alpacas: the Huacaya (wah-KI'-ya) and Suri (surrey). The main difference in these two types of animals is the structure of their fleece. The Huacaya has a definite crimp or waviness giving it the fluffy "teddy bear" appearance. The Suri on the other hand has no crimp and their fiber clings to itself forming beautiful "pencil locks" that hang down from the body in gentle, silky cascades. Both are highly sought after fibers by the world fiber market.

Alpacas have padded feet with two toe nails which are trimmed when they get long to ensure proper foot and leg alignment. Dental care is very minimal, usually only needed once a year. Many owners do this during shearing when the animal gets a thorough health exam.

Their fleece is shorn once a year. Grooming is discouraged because shampooing and brushing tends to destroy the character of the alpaca's wonderful crimpy fiber. Very little weight is lost during processing of alpaca fiber because of their clean nature. It is important to the general health and well being of the animals to keep their pasture and lodging clean, as it greatly facilitates clean fiber for processing.

An alpaca is a herd animal, therefore requiring more than one animal on a farm. If you are looking to start out slowly, you can purchase a gelding or pet quality male to go along with a breeding female. in tact males should not be kept with females so you can have control over your breeding program.

Alpacas are grazers. They have three stomach chambers and chew cud like a cow or deer, making them very efficient on the available grazing land. They, therefore, do not require large amounts of land. They eat pasture grass or low protein hay. To ensure they get the proper amounts of vitamins and minerals, most breeders also give them a pelleted food, specially formulated for this purpose. A mineralized salt is also typically made available at free choice. A dependable source of clean, fresh water is essential as well.

Alpacas are very easy animals to care for compared to other livestock. They consolidate their feces in one or two spots in the pasture. A community dung pile, if you will, makes clean up a snap! Because alpacas move in groups, they are quite easy to herd from place to place....usually! Sometimes it's more like herding cats! They are very swift and graceful in their movements. It's pure joy to watch two young cria loping about like gazelles! They are also hardy and typically have few health care requirements. They need monthly de-worming and annual vaccinations. Newborn cria will also be given supplemental vitamins and minerals to get the off to a good, healthy start.

Alpacas communicate through a variety of humming noises, posture, and tail and ear movements. The sound heard most often is a soft humming, a mild, gentle expression befitting a gentle animal such as these. Immediately after birthing, the dam will begin to hum or give clucking noises to communicate and reassure her cria. This also develops a bond between the two so that when in the herd, the cria will know its mother's sound. When an intruder (be it a deer, cat or predator) is in sight, a high pithed call is sounded to warn the herd. During breeding, males make a melodious, rhythmic sound called orgling.

Are alpacas dangerous? Absolutely not! They are safe and pleasant to be around. They are very curious about people and seem most intrigued and drawn to quiet children. As with all animals, you need to be respectful of "their space". Many alpacas do not like to be touched from mid-stomach back because they feel like this is a vulnerable area. Because alpacas basically have no defenses, fleeing is their first response to danger. Some animals may give a kick if the threat comes from the rear, however if an animal is handled on all sides while young, kicking will be a very scarce reaction. If that fails, you might get "The Spit"! They bring new meaning to the phrase "spit happens"! If all else fails they will lay down or cush.

You need to have a love for the animal and do a lot of research before you make your first purchase. This kind of farming takes a lot of tender loving care. While the daily duties only take about 45 minutes, you need to invest a lot more of your time and care into developing a healthy, strong herd, even if your herd is only six animals. You need to take time daily to observe their behavior, since that is the key to awareness of their overall health.


---